We've scoured the Internet to find some of the best home-made dog costumes and have found one for each day of this month! Ranked from easy to advanced, we have creative costume ideas for everyone and every pet!
Easy
1) Flower: Turn your pet into a beautiful flower with this simple costume!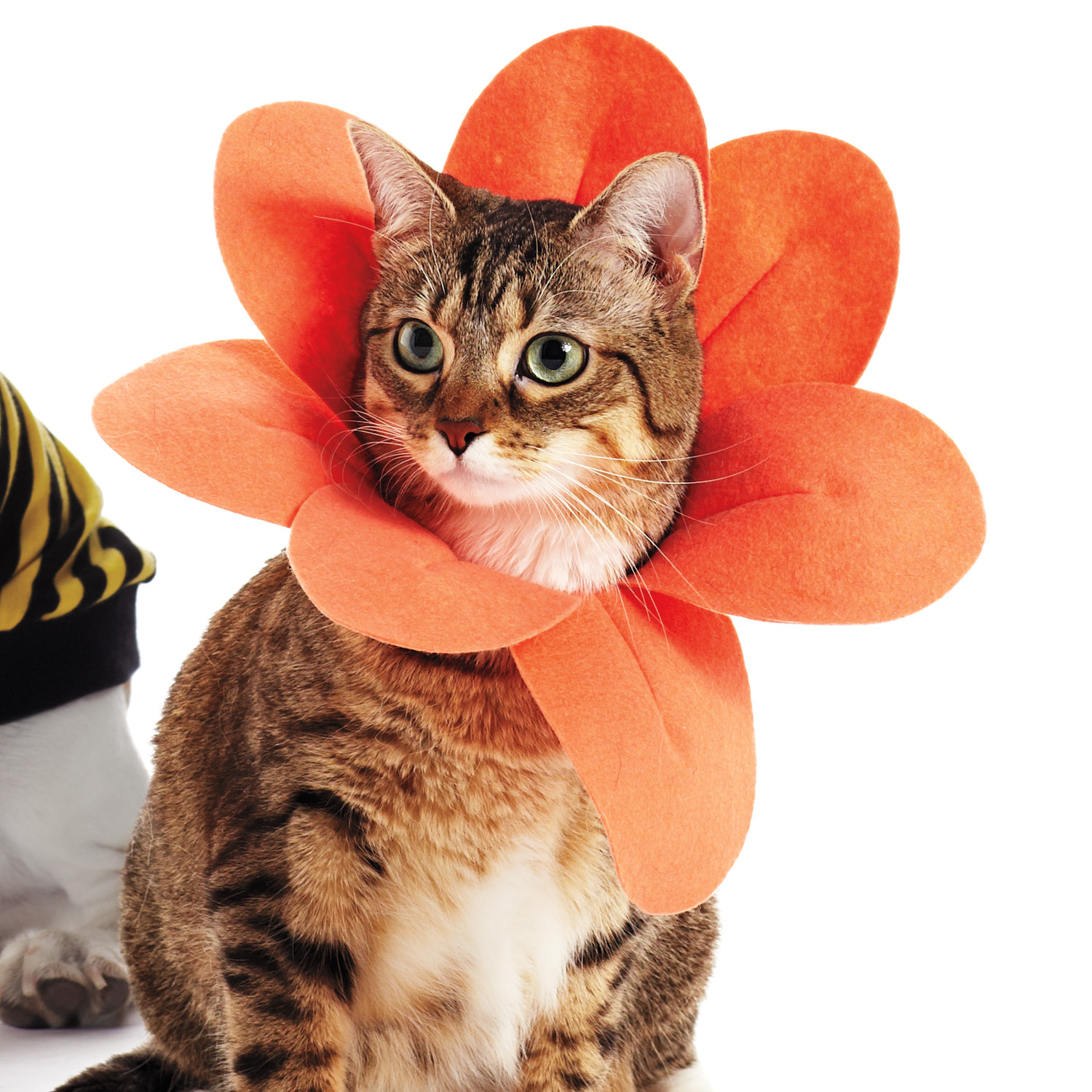 2) Chia Pet: Everyone loves those Chia Pet commercials.  Turn your pet into one with this video!
3) Hipster: All you need for this one is a pair of thick-rimmed plastic glasses and a printed scarf! Your pet will be too trendy to attend your Halloween party.
4) TY Beanie Baby: Even a pet that hates costumes will be okay with this easy DIY!
5) Ghost: Simple, but classic and adorable.  A white cloth and a pair of scissors will do the trick for this one. but you can add a piece of velcro or string to the inside to attach the costume to your pet's collar to keep it from falling off!
6) E.T.: If you're looking for a couple's costume for you and your pet, this is IT!
7) Piñata: So cute and easy! For bigger pets, you can use a human t-shirt for the base of this costume (just be sure that kids don't think your pet is full of candy)! Follow the link for the tutorial–it's towards the bottom of the page.
8) Death Star: For our geeky pets who are stuck wearing the famous "Cone Of Shame" this month, this costume will make the most of that dreaded cone! Grab a Sharpie and get your doodling skills going! 9) Martini Glass: Just another opportunity to take make the cone-collar a little more fun! Add a red dot to some green plush balls and skewer them! Your pet will be the drink of choice for everyone!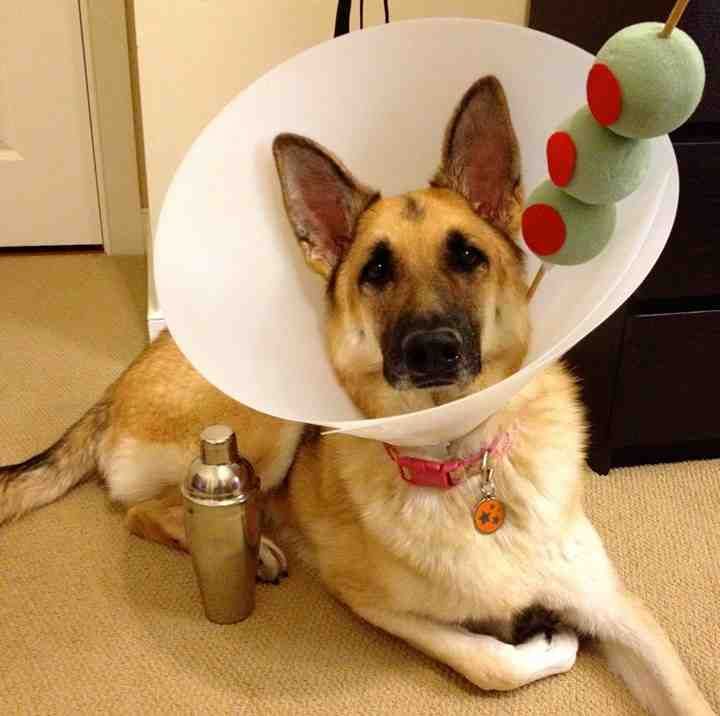 10) Underdog: Give your pet superpowers for Halloween with this Underdog cape!
11) Air Bud: Even the biggest couch potatoes can rise to stardom with this quick costume! Find yourself a blue and gold basketball jersey, then glue a big K9 cut out of fabric to the back for your pooch's number! (Bonus points if you can get the Timberwolves logo on the front or if your dog will wear sneakers!)
Intermediate
12) Mummy: Though this costume requires a bit of sewing, the results are too adorable to pass up.
\
13) Oscar The Grouch: Find yourself an appropriate sized trash can for your pet and scribble "SCRAM!" on a piece of cardboard! You can either find your pet a green wig or consult with your groomer about colored, temporary hair dye for your pet!
14) Big Bad Wolf-disguised as Grandma!: This one is extra perfect for all of our husky and shepherd dogs out there! Follow the link's instructions to make this great granny costume (or a non-pictured Little Red Ridinghood Costume)!
15) Pumpkin Spice Latte: Extra points for being fall themed as well as a Halloween costume! If your pet prefers to be carried around, you can get yourself a Starbucks cup (or make put a Starbucks decal on a bigger cup) and plop your pumpkin-dressed pooch in the cup for the evening.  If your pet prefers to have all 4 paws on the ground, you can cut out leg holes for them!
16) A Taco: That's right, a taco! This tutorial would be extra cute for the Chihuahuas out there, but will look great on any kind of pet!
17) A Sushi Roll: Sticking with the food theme, put your sewing skills to good use with this adorable costume.
18) A Cupcake: Finish off with this classic dessert! You can even match the cupcake type to fit your pet's personality.
19) Pocahontas: More like Pupahontas! Your pet will be feeling like all the colors of the wind in this Disney Princess-inspired costume.
20 and 21) Cheshire Cat AND Pikachu: Turn your pet either into the face of Pokémon or the magical cat from Wonderland with this cute jacket tutorial.
Advanced
22) Minion: While this specific design works better for our smaller pets, you can always find a bigger plush to deconstruct for bigger animal companions.
23) Candy Corn: This tutorial is probably easy for the pet parents who have some experience crocheting, but is a little tricky for those of us without the practice.
24) Lightning Bug: We can't get over how brilliant this one is. Your pet is sure to light up the party with this costume!
25) Walrus: Echo the Boston Terrier is known as the costume master.  Follow the instructions to recreate this hilarious costume.
26) Dandelion: You know it's legit when your pet's costume LIGHTS UP.
27) Fluffy/Cerberus: The more heads, the better with this costume! This particular tutorial even shows you how to make the additional heads so they can look just like your pooch!
28) Snoopy Vs. The Red Baron: Snoopy takes flight with this costume and airplane prop. Instructions for both the outfits and the plane included!
29) Storm Trooper: This tutorial is just for the helmet, but if you're this creative, we're sure you can figure out the rest!
30) Toothless The Dragon: If you haven't seen the How To Train Your Dragon films, you are missing out! Let your pet feel as legendary as a Night Fury by making this phenomenal, full body costume!
31) Dug From Disney's UP: Turn any dog into Dug with this Talking Dog Collar!! This unbelievable DIY is enough to make you and your pet the star regardless of where you go!
Please remember that your pet's happiness and health are priority; if your pet is uncomfortable in a costume, don't force it.  We want Halloween to be safe and fun, so be sure to read your pet's behavior!  That being said, we love these DIY costumes because you can customize them to your individual pet's exact measurements for a better fit!
Which of these DIY costumes was your favorite?  Do you plan on making one for your pet this year?  Let us know in the comments below!