Emerald Animal Hospital has been providing compassionate veterinary care to the Cleveland area since 1976. As a full-service hospital, we offer high quality medicine and surgery. Our in-house laboratory allows for quick analysis of blood and urine samples. All of our X-rays are reviewed by board-certified veterinary radiologists. Our doctors and registered veterinary technicians strive to obtain a complete patient history and a thorough physical examination. We take the time to listen and explain our findings in detail. We will discuss the best care options for each individual pet and are happy to answer any questions that may arise.
Dr. Rhonda Smith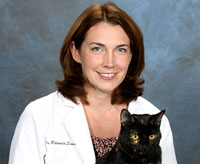 Dr. Rhonda Smith grew up in Brook Park and attended Berea High School and the College of Wooster. She earned a Bachelor of Science in Microbiology and a Doctorate in Veterinary Medicine (DVM) from 
The Ohio State University
in 2001.
She purchased Emerald Animal Hospital in Cleveland from Dr. Foy in 2011. In 2012, she purchased Sandstone Animal Hospital (previously Bagley Road Animal Hospital) in Berea from Dr. Randall. Dr. Smith is a strong believer in continuing education and is past President of 
The Cleveland Academy of Veterinary Medicine
. She has a special interest in low stress handling and is Fear Free certified.
Dr. Smith resides in Berea with her husband, two daughters, two cats (Princess and Quincy), and a yorkie (Darla). In her free time, she enjoys creative pursuits, nature walks, and attending her children's sporting events.
Dr. Michelle Lindsey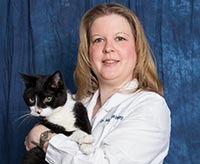 Dr. Lindsey grew up in Strongsville and Parma Heights and graduated from the University of Findlay in 1997. As a classmate of Dr. Smith's, she also graduated from The Ohio State University College of Veterinary Medicine in 2001. She joined the staff of Emerald Animal Hospital in January 2013.
Dr. Lindsey's special interests include dentistry, soft tissue surgery, weight management, skin and ear problems, the alleviation chronic pain, and feline medicine and behavior, particularly urinary problems in cats.
Dr. Lindsey lives in Cleveland with her husband and her cat, Remy. She enjoys horseback riding, is an avid gardener, and is trying to develop her photography skills.
Nici, Veterinary Technician & Assistant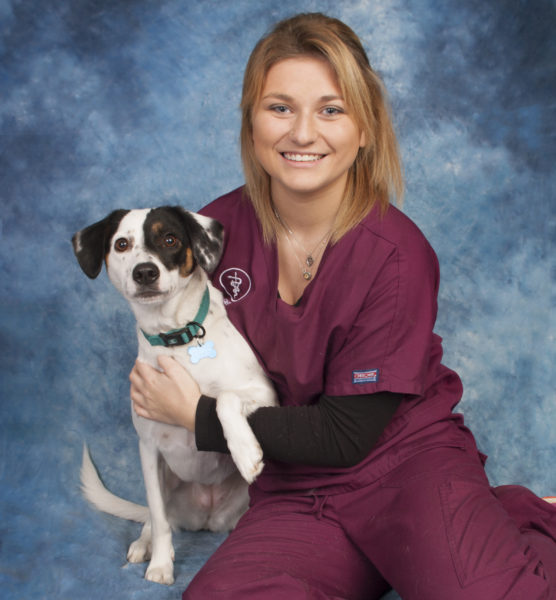 Nici grew up with a variety of animals in her life. Her fondness for working in the field of animal care began to grow when she started assisting the doctors at Emerald Animal Hospital in January of 2015.  She wanted to expand her knowledge and make a career out of her love for helping animals, so she attended school and graduated in May 2018 from Cuyahoga Community College with an Associate's Degree in Veterinary Technology.
Nici has five dogs named Bandit, Scooter, Bella, Mea, and Molly.  In her free time, Nici likes going out on the boat, scuba diving, or enjoying time with her family.
Julie, Veterinary Assistant
Julie has been in the veterinary field since 1992, but her love of animals started long before that.  From a young age, she tried to feed and care for neighborhood strays. She now specializes in low-stress animal handling.  She joined our team in 2015 and has earned our unofficial title of "pet whisperer" due to her strong empathy with our patients.  Her own animal companions include cats Ziggy, Dozer, Sable, and Toph. She also takes on foster cats, enjoys reading, and trying new restaurants.
Leah, Veterinary Technician & Assistant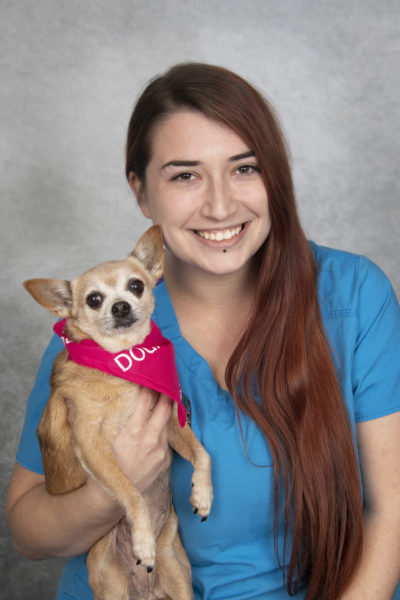 Leah turned her childhood love of animals into a passionw hen she began caring for pets at a local pet store.  These experiences motivated her to pursue the Veterinary Technician program at Stautzenberger college in May of 2018.  Leah joined our team in 2017, bringing her own dogs, Cookie and Max, and her cats, Cheechy and Zeek, into our family.  Leah is a dedicated comic book collector and plays video games.
Emily, Receptionist & Assistant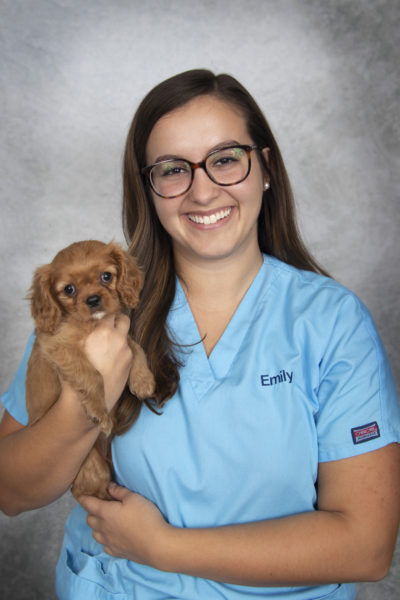 Emily graduated from Ohio State University in May of 2017 with a Bachelor of Science in Agriculture after majoring in Animal Sciences with a specialization in Animal Biosciences. She is currently a Post-Bach student at Cleveland State University working towards applying to veterinary medical school in fall of 2019. When not in class or working at the animal hospital, Emily also has two part-time jobs, one at Mitchell's Homemade Ice Cream and another with a patent and trademark law firm in downtown Cleveland. She also volunteer at Berea Animal Rescue Friends and the Cleveland Metroparks Zoo. She lives with her family, which includes a Boxer (Rocco), a Goldendoodle (Gunner) and two cats (Mojo and Millie).
Chris, Veterinary Technician & Assistant
Chris began working in the veterinary field in 2007 and graduated from the Veterinary Technician Program at Stautzenberger College in 2009.  Chris joined our hospital's family in 2016 and has a special interest in emergency medicine and triage. He and his wife love to travel and have a big pet family of their own, including two dogs (Joker and Dakota), a cat (Tony), and a python (Marshmallow).
Briana, Groomer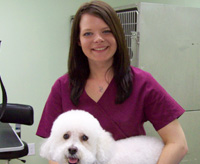 Briana grew up with many different animals, from dogs and cats to horses, skunks, and alpacas. She attended many dog shows with her mom and their show dog, Buttons the Briard. When she was ten years old, she snuck into her parents' bathroom with her miniature schnauzer, a pair of clippers, and a picture of a schnauzer for reference. She tried her hardest to get that dog to look like the one in the picture, and that was when she fell in love with grooming. It turned out better than expected, and mom was very impressed. She kept practicing and got her very first job at a grooming salon when she turned 18. She has been a professional groomer for 11 years.
Briana also has experience working with rescue dogs, who needed a little more time and patience than others. She hopes that her pet clients have a relaxing experience while they are with her. She likes to show the timid dogs that grooming can be a fun time for them. Briana also enjoys her own pet family, which include 3 dogs, a rescued horse, and a few reptiles.
Pet owners from Parma, Parma Hts, North Royalton, Middleburg Hts, Brook Park, and Berea trust us with their pets.  Our vets are very thorough, compassionate, and caring.
Find us on Facebook and Google Plus.