Emerald Animal Hospital has been providing compassionate veterinary care to the Cleveland area since 1976. As a full-service hospital, we offer high quality medicine and surgery. Our in-house laboratory allows for quick analysis of blood and urine samples. All of our X-rays are reviewed by board-certified veterinary radiologists. Our doctors and registered veterinary technicians strive to obtain a complete patient history and a thorough physical examination. We take the time to listen and explain our findings in detail. We will discuss the best care options for each individual pet and are happy to answer any questions that may arise.
Dr. Rhonda Smith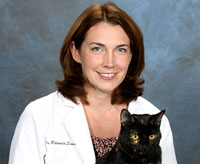 Dr. Rhonda Smith grew up in Brook Park and attended Berea High School and the College of Wooster. She earned a Bachelor of Science in Microbiology and a Doctorate in Veterinary Medicine (DVM) from 
The Ohio State University
in 2001.
She purchased Emerald Animal Hospital in Cleveland from Dr. Foy in 2011. In 2012, she purchased Sandstone Animal Hospital (previously Bagley Road Animal Hospital) in Berea from Dr. Randall. Dr. Smith is a strong believer in continuing education and is past President of 
The Cleveland Academy of Veterinary Medicine
. She has a special interest in low stress handling and is Fear Free certified.
Dr. Smith resides in Berea with her husband, two daughters, two cats (Princess and Quincy), and a yorkie (Darla). In her free time, she enjoys creative pursuits, nature walks, and attending her children's sporting events.
Dr. Michelle Lindsey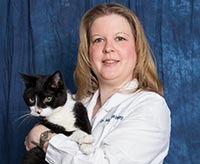 Dr. Lindsey grew up in Strongsville and Parma Heights and graduated from the University of Findlay in 1997. As a classmate of Dr. Smith's, she also graduated from The Ohio State University College of Veterinary Medicine in 2001. She joined the staff of Emerald Animal Hospital in January 2013.
Dr. Lindsey's special interests include dentistry, soft tissue surgery, weight management, skin and ear problems, the alleviation chronic pain, and feline medicine and behavior, particularly urinary problems in cats.
Dr. Lindsey lives in Cleveland with her husband and her cat, Remy. She enjoys horseback riding, is an avid gardener, and is trying to develop her photography skills.
Erica, Registered Veterinary Technician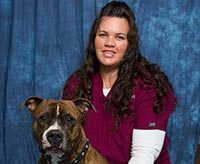 Erica grew up in Lorain, where she attended Admiral King High School. She graduated with a degree in veterinary technology from Stautzenberger College in 2009. As a child, Erica always knew she would work with animals. She had such a love for them and was always bringing home new critters. Her first experience working at a veterinary hospital was shortly after high school. In the last 14 years, she has been able to explore the many facets of small animal practice, including emergency and specialty medicine. The part of her job she enjoys the most is assisting and monitoring in surgery, as well as soothing the animals as they recover from anesthesia.
Erica shares her home with a pet snake, bearded dragons, a schnauzer named Brooklyn, and a bulldog named Lebron James. In her spare time, she enjoys riding horses, being outdoors, and spending time with her husband and their children.
Karen, Hospital Manager
Karen grew up and still resides in North Olmsted. Her love of animals began at a very young age while watching her grandfather judge dog shows and breed Boxers and Shih Tzus. Her passion turned into a career in 1988 when she entered an Animal Productivity and Care program in Middleburg Heights. In 1997, Karen interviewed, hired, and trained Dr. Smith (before she was a doctor) for a receptionist position at MetroPet Animal Hospital in Berea. Now Karen manages both Sandstone and Emerald Animal Hospital's daily operations, such as inventory and OSHA safety protocols for the staff. She is certified as Fear Free and is training her staff to use fear free handling in everyday practice.
Karen married her high school sweetheart. Together, they have 2 daughters in college, 2 dogs, and 1 cat. She has served on the Board of Trustees of the Cleveland Edges Skating Club for the past several years and currently holds the position of President. Her free time is spent watching her daughter ice skate on a synchronized skating team, reading, and enjoying the outdoors.
Briana, Groomer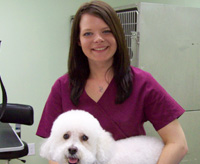 Briana grew up with many different animals, from dogs and cats to horses, skunks, and alpacas. She attended many dog shows with her mom and their show dog, Buttons the Briard. When she was ten years old, she snuck into her parents' bathroom with her miniature schnauzer, a pair of clippers, and a picture of a schnauzer for reference. She tried her hardest to get that dog to look like the one in the picture, and that was when she fell in love with grooming. It turned out better than expected, and mom was very impressed. She kept practicing and got her very first job at a grooming salon when she turned 18. She has been a professional groomer for 11 years.
Briana also has experience working with rescue dogs, who needed a little more time and patience than others. She hopes that her pet clients have a relaxing experience while they are with her. She likes to show the timid dogs that grooming can be a fun time for them. Briana also enjoys her own pet family, which include 3 dogs, a rescued horse, and a few reptiles.
Pet owners from Parma, Parma Hts, North Royalton, Middleburg Hts, Brook Park, and Berea trust us with their pets.  Our vets are very thorough, compassionate, and caring.
Find us on Facebook and Google Plus.