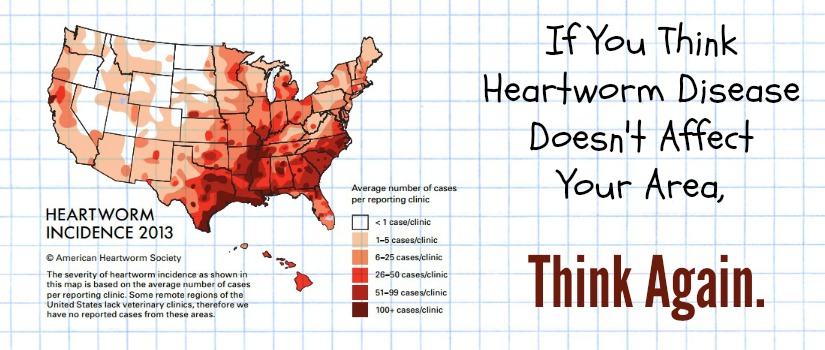 Heartworm is a scary diagnosis for any pet, yet there are still pet parents who decline heartworm prevention and are not concerned with the disease.  These pet parents are typically unaware of how heartworm affects the Cleveland area and we would like to take the time to address the geographical range of the potentially fatal disease.
According to our very own Dr. Michelle Lindsey, Emerald Animal Hospital had 6 dogs who tested positive for heartworm disease.  This may seem like a small number, but if every animal hospital in the area sees about 5 cases in dogs per year, that number adds up very quickly.
As for cats, Emerald Animal Hospital currently has one cat patient who may have heartworm disease. While dogs are the natural host for heartworms, cats are not.  This difference means that there is not a completely accurate heartworm test for cats.  The heartworm test checks for adult female heartworms.  This test is sufficient in dogs since heartworms will actively reproduce in dogs, meaning that the chances of an adult female heartworm being present in a dog infected with heartworms are extremely high.  Heartworms do not reproduce in cats; if a cat gets infected with heartworms, its immune system will kill them off but they will still have a reaction that can lead to asthma.  If a worm or two survives and reaches maturity in a cat, the cat may die or have significant breathing problems.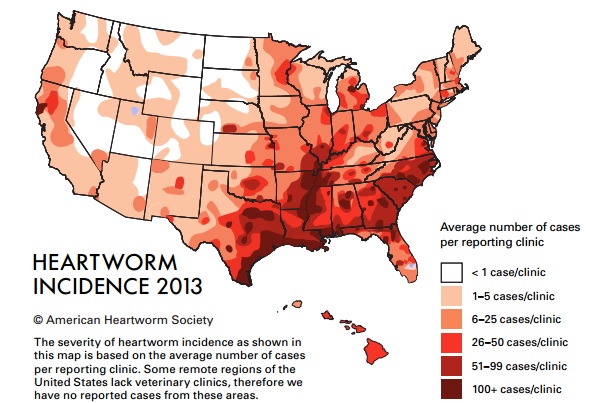 This map is based on a survey taken in 2013.  Note that most of Ohio had 6-25 pets who had tested positive for heartworm disease, while northeast Ohio averaged 26-50 positive heartworm tests per year.  The average number may be even higher since not all animal clinics reported into the study and not all cats with heartworm test positive for the disease.
There are many different kinds of heartworm prevention products to choose from.  That being said, an effective but low cost option is Interceptor.  Since Interceptor is not a combination product (meaning that it does not treat fleas AND heartworm, just heartworm), it typically costs $6.50-$8.50 per dose.  One year of Interceptor is between $78-$102, depending on the size of your pet.  Interceptor's producer, Elanco, often has rebates for buying 6 doses or 12 doses at a time, driving the cost down even further.  For the cost of a couple of Starbucks coffees per month, your cat or dog can be fully protected against heartworm disease.
When compared to treatment (which can end up costing anywhere between $600-$1000, according to Dr. Lindsey), the cost of Interceptor or any other heartworm prevention product is a small price to pay for the health of your pet.
Do you have any further questions about heartworm prevention?  Let us know in the comments below or click on the dog above in the right hand column to send us an email!